In Plain Sight
£20.00
In Plain Sight is an apocalyptic comic themed close-up magic booklet with seven brand new original effects.
Written and illustrated by Nikola Arkane.
Front cover and title pages designed by, Stefan Eriksson, the artist behind Ondrej Psenicka's Butterfly Playing Cards.
In stock
Description
Inside In Plain Sight you will discover seven original Arkane creations developed during the 2020-21 pandemic.
The concept behind this Limited Edition book and its creations is that the methods are in plain sight the entire performance. Yet the audience cannot see what is placed right in front of them.
The book also provides a small glimpse into the creative mind of Nikola Arkane.
The contents are raw, honest and meaningful in the hope that you, too can read how to think differently about the magic you create and perform in the future.
Each routine in this booklet is described from concept onto creation and finally ending with a full description of its execution. Meaning that you all will get to explore the creative process together with Nikola.
Contents:
Black Nova: After displaying three coins clearly in your hand, you close your fist around them. After removing one of them at random the other two instantly vanish.
Black Nova: Expansion pack: A coin on the table visually changes into a jumbo coin.
The Doppler Shift: Nikola's take on the Cards Across plot – with colours.
An Extraterrestrial Being: A novel way to vanish a card (or a packet) at the end of a four card trick.
Orbital Launch: A red card box instantly changes to a blue card box.
Parabolic Deck: An innovative way to introduce a deck of cards into a show.
Perseids: A visual bow-tie appearance.
Stellar Collision: One packet consisting of blank cards is placed next to a packet of normal cards. First, one card from each packet transpose, then all the cards transpose.
The Final Frontier: Some final thoughts.
A5 size
70 pages
78 illustrations
---
Additional information
| | |
| --- | --- |
| Dimensions | 14.8 × 21.1 cm |
You may also like…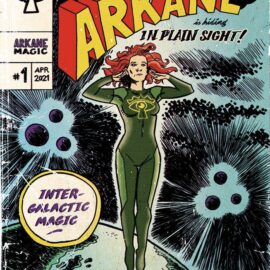 Limited Edition