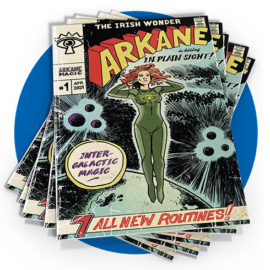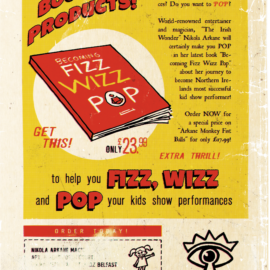 Limited Edition
In Plain Sight is an apocalyptic comic themed close-up magic booklet with seven brand new original effects.
Written and illustrated by Nikola Arkane.
Front cover and title pages designed by, Stefan Eriksson, the artist behind Ondrej Psenicka's Butterfly Playing Cards.
The Chaos Inside is Nikola Arkane's first lecture notes, detailing her award-winning Magic Castle act.
This A4, 48 page PDF booklet is richly illustrated and easy to follow.
Becoming FizzWizzPop is a semi-autobiographical book of ideas, stories and practical methods on how to entertain and captivate the hardest but most rewarding audience you will ever face, children. Prepare yourselves for horror stories and happy ones.
This A5, 92 page, soft bound book is filled with beautiful and colourful images from FizzWizzPop's events, trials and tribulations over the years.
Choose Book type below: Paperback or E-book version.